Custom Beautiful Woman Chinese & Japanese Calligraphy Wall Scroll
We have many options to create artwork with Beautiful Woman characters on a wall scroll or portrait.
If you want to create a cool Beautiful Woman Asian character tattoo, just email us and we'll help you select from many forms of ancient Asian symbols that express the idea of Beautiful Woman.
---
---

愛慕 means "adoring love" in Chinese, Japanese, and Korean.

I suppose this is the best kind of love to have. 愛慕 has the common character for love. But the second character modifies and reinforces the meaning to become adore, adoring love, or to love and adore.

Ancient Chinese warning:
Adoring someone is fine until you are in the shoes of the Prince of the Kingdom of Wu. This Prince adored a certain beautiful woman (Xi Shi) so much that he neglected his duties and soon let the kingdom fall into ruins.
Beauty / Beautiful / Handsome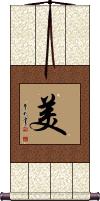 美 is often used to describe the beauty of a woman.

However, when applied to a man, it can mean handsome. It's also the first character in the word for "beauty salon" which you will see all over China and Japan.

This can be used as the given name for a girl (spell it or say it as "Mei" or "May").

For a bit of trivia: The title for the "USA" in Chinese is "Mei Guo" which literally means "Beautiful Country." This name was bestowed at a time before Chairman Mao came to power and decided that China didn't like the USA anymore (even though we fought together against the Japanese in WWII). But these days, Chinese people love Americans (but have a distaste for American politics and policy). But I digress...

美 is also how "Beautiful" is written in Japanese Kanji and Korean Hanja. 美 can also mean: very satisfactory; good; to be pleased with oneself; abbreviation for the USA; fine; handsome; admirable; madhura; sweet; and/or pleasant.
---
See Also: Beautiful Woman | Beautiful Girl

美麗的姑娘 is the best way to express "beautiful girl" in Chinese.
---
See Also: Beautiful Woman | Beauty

美麗的女人 is the best and most polite way to express "beautiful woman" in Chinese.

Note: Some people may like the simple 2-character 美女 way to express this, but there are some bad connotations with that, so better to stay with this longer and more respectful title.
---
See Also: Beautiful Girl | Beauty

沈魚落雁 is an old proverb that literally means "fish sink, goose alights."

...But this takes some explaining. This is a proverb from Zhuangzi (莊子), who lived in the late 4th century BC.

This figuratively refers to female beauty that is so captivating that even the birds and beasts take notice.

Perhaps a better and more accurate way to describe this is to say that it speaks of the charms of a uniquely beautiful woman who is so beautiful that fish stay on the bottom of the water and flying wild geese fall from the sky in shame.

This proverb is so famous that it is also known and used in Japan (same characters, different pronunciation).
---
Note: This can also be written 沉魚落雁 instead of 沈魚落雁 (just the first character varies slightly).
You are always a beauty in your lover's eyes
qíng rén yǎn lǐ chū xī shī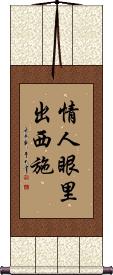 Any woman with affection for Asian art will love a gift of this Chinese proverb calligraphy on a wall scroll.

She will melt in your arms as you tell her the meaning of these characters.

Contained in this phrase is a reference to the most beautiful woman in Chinese history. Her name was Xi Shi, and she was known to have good looks that need not have fine robes or makeup. Her charms were so powerful that she brought down an entire kingdom (in a successful effort to bring honor and pride back to her people).

情人眼里出西施 is a great way to express that the woman in your life is your one love.
Beauty / Beautiful Princess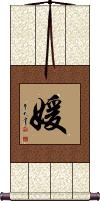 媛 means, a beauty; beautiful (woman); princess; a young lady of noble birth; girl; small & lovely.

媛 is used a bit more commonly in Chinese than in Japanese.
---
Note: This can be the female given name "Hime" in Japanese.
This in-stock artwork might be what you are looking for, and ships right away...
The following table may be helpful for those studying Chinese or Japanese...
Title
Characters
Romaji

(Romanized Japanese)

Various forms of Romanized Chinese
Adoring Love
愛慕

---

爱慕
ai bou / aibou / ai bo
ài mù / ai4 mu4 / ai mu / aimu
Beauty
Beautiful
Handsome
美
bi
měi / mei3 / mei
Beautiful Girl
美麗的姑娘

---

美丽的姑娘
měi lì de gū niang

---

mei3 li4 de gu1 niang

---

mei li de gu niang

---

meilideguniang
mei li te ku niang

---

meilitekuniang
Beautiful Woman
美麗的女人

---

美丽的女人
měi lì de nǚ rén

---

mei3 li4 de nv3 ren2

---

mei li de nv ren

---

meilidenvren
mei li te nü jen

---

meilitenüjen
Beautiful Woman Proverb
沈魚落雁

---

沈鱼落雁
chin gyo raku gan

---

chingyorakugan
chén yú luò yàn

---

chen2 yu2 luo4 yan4

---

chen yu luo yan

---

chenyuluoyan
ch`en yü lo yen

---

chenyüloyen

---

chen yü lo yen
You are always a beauty in your lover's eyes
情人眼里出西施
qíng rén yǎn lǐ chū xī shī

---

qing2 ren2 yan3 li3 chu1 xi1 shi1

---

qing ren yan li chu xi shi

---

qingrenyanlichuxishi
ch`ing jen yen li ch`u hsi shih

---

chingjenyenlichuhsishih

---

ching jen yen li chu hsi shih
Beauty
Beautiful Princess
媛
hime / haru
yuàn / yuan4 / yuan
yüan
Pink Color
粉色
fěn sè / fen3 se4 / fen se / fense
In some entries above you will see that characters have different versions above and below a line.
In these cases, the characters above the line are Traditional Chinese, while the ones below are Simplified Chinese.
Many custom options...




And formats...




All of our calligraphy wall scrolls are handmade.
When the calligrapher finishes creating your artwork, it is taken to my art mounting workshop in Beijing where a wall scroll is made by hand from a combination of silk, rice paper, and wood.
After we create your wall scroll, it takes at least two weeks for air mail delivery from Beijing to you.
Allow a few weeks for delivery. Rush service speeds it up by a week or two for $10!
When you select your calligraphy, you'll be taken to another page where you can choose various custom options.