Custom Generosity Chinese & Japanese Calligraphy Wall Scroll
We have many options to create artwork with Generosity characters on a wall scroll or portrait.
If you want to create a cool Generosity Asian character tattoo, you can purchase that here: Asian / Chinese / Japanese Tattoo Image Service ...and we'll give you many tattoo image templates of the ancient Asian symbols that express the idea of generosity.
---
---

There are a few different words used to express charity in Chinese characters, Japanese Kanji and old Korean Hanja but 慈善 is the most common.

Some of the other words describe acts such as "giving alms" etc.
---
Note: Sometimes this is translated as benevolence or benevolent.
Also, this considered to be one of the Seven Heavenly Virtues.

If you need a different meaning, just contact me.
---
See Also: Benevolence | Altruism
Mercy / Compassion / Love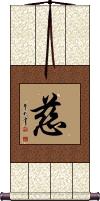 慈 is the simplest way to express the idea of compassion.

This can also mean love for your fellow humans, humanity, or living creatures. Sometimes this is extended to mean charity.

This term is often used in a Buddhist or Christian context. The concept was also spoken of by Laozi (Lao Tzu) in the Dao De Jing (Tao Te Ching).

慈 is considered the direct translation of the Sanskrit word मैत्री (maitrī) Pali word मेत्ता (mettā). In this context, it means benevolence, loving kindness, and goodwill.

This Chinese character is understood in Japanese but is usually used in compound words (not seen alone). Also used in old Korean Hanja, so it's very universal.
---
See Also: Mercy | Benevolence | Forgiveness | Kindness
Dana: Almsgiving and Generosity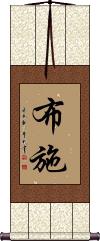 布施 is the Buddhist practice of giving known as Dāna or दान from Pali and Sanskrit.

Depending on the context, this can be alms-giving, acts of charity, or offerings (usually money) to a priest for reading sutras or teachings.

Some will put Dāna in these two categories:
1. The pure or unsullied charity, which looks for no reward here but only in the hereafter.
2. The sullied almsgiving whose object is personal benefit.
The first kind is, of course, the kind that a liberated or enlightened person will pursue.

Others will put Dāna in these categories:
1. Worldly or material gifts.
2. Unworldly or spiritual gifts.

You can also separate Dāna into these three kinds:
1. 財布施 Goods such as money, food, or material items.
2. 法布施 Dharma, as an act to teach or bestow the Buddhist doctrine onto others.
3. 無畏布施 Courage, as an act of facing fear to save someone or when standing up for someone or standing up for righteousness.

The philosophies and categorization of Dāna will vary among various monks, temples, and sects of Buddhism.

Breaking down the characters separately:
布 (sometimes written 佈) means to spread out or announce, but also means cloth. In ancient times, cloth or robs were given to the Buddhist monks annually as a gift of alms - I need to do more research, but I believe there is a relationship here.
施 means to grant, to give, to bestow, to act, to carry out, and by itself can mean Dāna as a single character.

Dāna can also be expressed as 檀那 (pronounced "tán nà" in Mandarin and dan-na or だんな in Japanese). 檀那 is a transliteration of Dāna. However, it has colloquially come to mean some unsavory or unrelated things in Japanese. So, I think 布施 is better for calligraphy on your wall to remind you to practice Dāna daily (or whenever possible).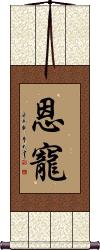 恩寵 means grace or favor in Chinese characters, Japanese Kanji, and old Korean Hanja.

In ancient China, this was a special favor bestowed by a ruler. It could also be the Emperor's generosity towards a favorite person or concubine.
Forgive
Deep heartfelt forgiveness

寛恕 is a word of Chinese origin means forgive or forgiveness.

寬恕 is a deep kind of forgiveness from the bottom of your heart.

In a religious context, this is the kind of forgiveness that you beg God for and that God grants you.

In Korean Hanja, this can also be defined as forbearance or leniency.

In Japanese Kanji, beyond forgiveness, this can also mean magnanimity or generosity.

While we don't actively recommend Asian tattoos, this would be the forgiveness title that is best for a tattoo in most cases.
---

Note: The first character can also be written in the form shown to the right (especially in Japanese). If you have a preference, please let us know in the "special instructions" when you place your order.

寬大 is a Chinese, Japanese, and Korean word that means Generosity.

Generosity is giving and sharing. You share freely, not with the idea of receiving something in return. You find ways to give others happiness and give just for the joy of giving. Generosity is one of the best ways to show love and friendship.

寬大 can also be translated as charitable, magnanimity, liberality, or in some contexts, broad-mindedness.

Note: There is a tiny deviation in the first character when written in Japanese. If you choose our Japanese master calligrapher, the little dot on the lower right of the first character will be omitted. With or without the dot, this can be read in Chinese, Japanese Kanji, and old Korean Hanja.
---
See Also: Benevolence | Altruism | Charity
Kindness and Forgiving Nature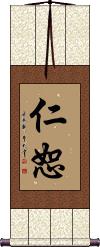 仁恕 is a word in Chinese and Japanese that means something like benevolence with magnanimity or kindness with a forgiving nature.

If this describes you, then you are the type of person that I would like to call my friend.

This may not be the most common word in daily use, but it's old enough that it transcended cultures from China to Japan in the 5th century when Japan lacked a written language and absorbed Chinese characters and words into their language.
Note: 仁恕 is not commonly used in Korean.
Mercy / Compassion / Buddhist Loving Kindness

Besides the title above, 慈悲 can also be defined as clemency or lenience and sometimes the act of giving charity.

In the Buddhist context, it can be defined as "benevolence," "loving-kindness and compassion," or "mercy and compassion."

This Buddhist virtue is perhaps the most important to employ in your life. All sentient beings that you encounter should be given your loving kindness. And trust me, however much you can give, it comes back. Make your life and the world a better place!

This Chinese/Japanese Buddhist term is the equivalent of Metta Karuna from Pali or Maitri Karuna from Sanskrit.

慈 can mean loving-kindness by itself.
悲 adds a component of sorrow, empathy, compassion, and sympathy for others.
---
See Also: Benevolence

Being tolerant is accepting differences. You don't expect others to think, look, speak or act just like you. You are free of prejudice, knowing that all people have feelings, needs, hopes, and dreams. Tolerance is also accepting things you wish were different with patience and flexibility.

寬容 can also be translated as magnanimity, generosity, or leniency.

Note: There is a tiny deviation in the first character when written in Japanese. If you choose our Japanese master calligrapher, the little dot on the lower right of the first character will be omitted. With or without the dot, this can be read in Chinese, Japanese, and old Korean.
---
See Also: Patience
The following table may be helpful for those studying Chinese or Japanese...
Title
Characters
Romaji

(Romanized Japanese)

Various forms of Romanized Chinese
Charity
慈善
ji zen / jizen
cí shàn / ci2 shan4 / ci shan / cishan
tz`u shan / tzushan / tzu shan
Mercy
Compassion
Love
慈
ji
cí / ci2 / ci
tz`u / tzu
Dana: Almsgiving and Generosity
布施
fuse
bù shī / bu4 shi1 / bu shi / bushi
pu shih / pushih
Grace
Favor
恩寵

---

恩宠
on chou / onchou / on cho
ēn chǒng / en1 chong3 / en chong / enchong
en ch`ung / enchung / en chung
Forgive
寬恕 / 寛恕

---

宽恕
kan jo / kanjo
kuān shù / kuan1 shu4 / kuan shu / kuanshu
k`uan shu / kuanshu / kuan shu
Generosity
寬大

---

宽大
kandai
kuān dà / kuan1 da4 / kuan da / kuanda
k`uan ta / kuanta / kuan ta
Kindness and Forgiving Nature
仁恕
jinjo
rén shù / ren2 shu4 / ren shu / renshu
jen shu / jenshu
Mercy
Compassion
Buddhist Loving Kindness
慈悲
ji hi / jihi
cí bēi / ci2 bei1 / ci bei / cibei
tz`u pei / tzupei / tzu pei
Tolerance
寬容

---

宽容
kanyou / kanyo
kuān róng

---

kuan1 rong2

---

kuan rong

---

kuanrong
k`uan jung

---

kuanjung

---

kuan jung
In some entries above you will see that characters have different versions above and below a line.
In these cases, the characters above the line are Traditional Chinese, while the ones below are Simplified Chinese.
All of our calligraphy wall scrolls are handmade.
When the calligrapher finishes creating your artwork, it is taken to my art mounting workshop in Beijing where a wall scroll is made by hand from a combination of silk, rice paper, and wood.
After we create your wall scroll, it takes at least two weeks for air mail delivery from Beijing to you.
Allow a few weeks for delivery. Rush service speeds it up by a week or two for $10!
When you select your calligraphy, you'll be taken to another page where you can choose various custom options.
Chinese
...very beginning, the origins of Chinese writing are obscure and much ... casting of the vessel, noting the generosity of the ruler as represented by the...
Chinese Lunar Calendar - LunarCal
...dates of Chinese New Years and major Chinese festivals for ... Joe Johnson for their kind generosity in sponsoring this domain and providing free web hosting.
Scotsman.com News - Education - Chinese gift is last word in generosity
ALMOST 1000 Chinese language books have been donated to Edinburgh University as ... Chinese has been taught at the university since 1967.
China woos African trade | csmonitor.com
In Beijing this weekend, China is seeking tighter ties with regimes reviled in the West.
... Thanks to Chinese generosity, Angola managed to avoid submitting to good...
generosity
Definition of generosity ... Chinese New Year. 2007 Calendar. Infoplease Tools. Distance Calculator. Periodic Table ... also: generosity (Thesaurus) Related...
Pinyin
Through the generosity of many authors and publishers, this site offers an ... Congcong, an essay by Zhu Ziqing, given in Hanyu Pinyin and Chinese characters...
YOUR JAPANESE GUESTS
What follows is my account of what happens when Japanese and Americans meet.
... The Japanese were deeply moved and greatly impressed by the generosity the...
The Japanese Grill
The The Japanese Grill recipe is one of the quality recipes that comes with ... Generosity is the name of the game at Inakaya, and for the next two hours we...
~ Japanese Gardens - Making friends with the flowers ~
...best plants. Dwarf trees and shrubs. Looking after the Japanese garden ... delight you with an overflowing generosity of fragrance, colour and their utmost...