Courage Korean in old Korean Hanja...
Buy a Courage Korean calligraphy wall scroll here!
Personalize your custom "Courage Korean" project by clicking the button next to your favorite "Courage Korean" title below...
See also: Selections of just old Korean Hanja Calligraphy
---
---
Bravery / Courage
Single Character for Courage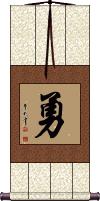 勇 can be translated as bravery, courage, valor, or fearless in Chinese, Japanese and Korean.

勇 is the simplest form to express courage or bravery, as there is also a two character form which starts with this same character.

勇 can also be translated as brave, daring, fearless, plucky or heroic.
---
This is also a virtue of the Samurai Warrior
See our page with just Code of the Samurai / Bushido here
---
Bravery / Courage
Courageous Energy

勇氣 is one of several ways to express bravery and courage in Chinese, Japanese, and Korean.

This version is the most spiritual. 勇氣 is the essence of bravery from deep within your being. 勇氣 is the mental state of being brave versus actual brave behavior. You'd more likely use this to say, "He is very courageous", rather than "He fought courageously in the battle".

The first character also means bravery or courage when it's seen alone. With the second character added, an element of energy or spirit is added. The second character is the same "chi" or "qi" energy that Kung Fu masters focus when they strike. For this reason, you could say this means "spirit of courage" or "brave spirit".

勇氣 is certainly a stronger word than just the first character alone.

Beyond bravery or courage, dictionaries also translate this word as valor/valour, nerve, audacity, daring, pluck, plucky, gallantry, guts, gutsy and boldness.

勇氣 is also one of the 8 key concepts of tang soo do.
---

While the version shown to the left is commonly used in Chinese and Korean Hanja (and ancient Japanese Kanji), please note that the second character is written with slightly fewer strokes in modern Japanese. If you want the modern Japanese version, please click on the character to the right. Both styles would be understood by native Chinese, Japanese, and many (but not all) Korean people. You should make your selection based on the intended audience for your calligraphy artwork. Or pick the single-character form of bravery/courage which is universal.
Bravery / Courage
Courage in the face of Fear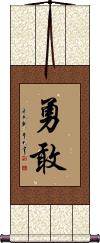 勇敢 is about courage or bravery in the face of fear.

You do the right thing even when it is hard or scary. When you are courageous, you don't give up. You try new things. You admit mistakes. This kind of courage is the willingness to take action in the face of danger and peril.

勇敢 can also be translated as braveness, valor, heroic, fearless, boldness, prowess, gallantry, audacity, daring, dauntless and/or courage in Japanese, Chinese, and Korean. This version of bravery/courage can be an adjective or a noun. The first character means bravery and courage by itself. The second character means "daring" by itself. The second character just emphasizes the meaning of the first but adds an idea that you are not afraid of taking a dare, and you are not afraid of danger.

勇敢 is more about brave behavior and not so much the mental state of being brave. You'd more likely use this to say, "He fought courageously in the battle", rather than "He is very courageous".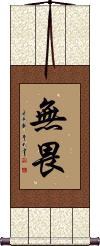 This literally means "No Fear". But perhaps not the most natural Chinese phrase (see our other "No Fear" phrase for a more complete thought). However, this two-character version of "No Fear" seems to be a very popular way to translate this into Chinese, when we checked Chinese Google.

Note: This also means "No Fear" in Japanese and Korean but this character pair is not often used in Japan or Korea.

This term appears in various Chinese dictionaries with definitions like "without fear", intrepidity, fearless, dauntless, and bold.

In Buddhist context, this is a word derived from abhaya meaning: Fearless, dauntless, secure, nothing and nobody to fear. Also from vīra meaning: courageous, bold.
---
See Also: Never Give Up | No Worries | Undaunted | Bravery | Courage | Fear No Man
Bushido / The Way of the Samurai

武士道 is the title for "The Code of the Samurai".

Sometimes called "The Seven Virtues of the Samurai", "The Bushido Code", or "The Samurai Code of Chivalry".

This would be read in Chinese characters, Japanese Kanji, and old Korean Hanja as "The Way of the Warrior", "The Warrior's Way", or "The Warrior's Code".

It's a set of virtues that the Samurai of Japan and ancient warriors of China and Korea had to live and die by. However, while known throughout Asia, this title is mostly used in Japan and thought of as being of Japanese origin.

The seven commonly-accepted tenets or virtues of Bushido are: Rectitude 義, Courage 勇, Benevolence 仁, Respect 礼(禮), Honour 名誉, Honesty 誠, and Loyalty 忠実. These tenets were part of an oral history for generations, thus, you will see variations in the list Bushido tenets depending on who you talk to.
---
See our page with just Code of the Samurai / Bushido here
---

不動心 is one of the five spirits of the warrior (budo), and is often used as a Japanese martial arts tenet.

Under that context, places such as the Budo Dojo define it this way: An unshakable mind and an immovable spirit is the state of fudoshin. It is courage and stability displayed both mentally and physically. Rather than indicating rigidity and inflexibility, fudoshin describes a condition that is not easily upset by internal thoughts or external forces. It is capable of receiving a strong attack while retaining composure and balance. It receives and yields lightly, grounds to the earth, and reflects aggression back to the source.

Other translations of this title include imperturbability, steadfastness, keeping a cool head in an emergency, or keeping one's calm (during a fight).

The first two Kanji alone mean immobility, firmness, fixed, steadfastness, motionless, idle.

The last Kanji means heart, mind, soul, or essence.

Together, these three Kanji create a title that is defined as "immovable mind" within the context of Japanese martial arts. However, in Chinese it would mean "motionless heart" and in Korean Hanja, "wafting heart" or "floating heart".


England
Can mean: Courage / Bravery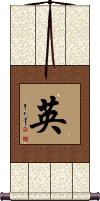 In Chinese, Japanese, and old Korean, this can often be confused or read as a short name for England (this character is the first syllable of the word for England, the English language, British Pound, and other titles from the British Isles).

In some context, this can mean "outstanding" or even "flower". But it will most often read as having something to do with the United Kingdom.
---
This is not the most common way to say hero, courage or bravery but you may see it used sometimes.

I strongly recommend that you choose another form of courage/bravery.
This in-stock artwork might be what you are looking for, and ships right away...
The following table may be helpful for those studying Chinese or Japanese...
Title
Characters
Romaji

(Romanized Japanese)

Various forms of Romanized Chinese
Bravery
Courage
勇
isamu / yu-
yǒng / yong3 / yong
yung
Bravery
Courage
勇氣

---

勇气 / 勇気
yuuki / yuki
yǒng qì / yong3 qi4 / yong qi / yongqi
yung ch`i / yungchi / yung chi
Bravery
Courage
勇敢
yuu kan / yuukan / yu kan / yukan
yǒng gǎn / yong3 gan3 / yong gan / yonggan
yung kan / yungkan
No Fear
無畏

---

无畏
mui
wú wèi / wu2 wei4 / wu wei / wuwei
Bushido
The Way of the Samurai
武士道
bu shi do / bushido
wǔ shì dào

---

wu3 shi4 dao4

---

wu shi dao

---

wushidao
wu shih tao

---

wushihtao
Immovable Mind
不動心
fu dou shin

---

fudoushin

---

fu do shin

---

fudoshin
England
英
ei
yīng / ying1 / ying
In some entries above you will see that characters have different versions above and below a line.
In these cases, the characters above the line are Traditional Chinese, while the ones below are Simplified Chinese.
Many custom options...




And formats...



Successful Chinese Character and Japanese Kanji calligraphy searches within the last few hours...
All of our calligraphy wall scrolls are handmade.
When the calligrapher finishes creating your artwork, it is taken to my art mounting workshop in Beijing where a wall scroll is made by hand from a combination of silk, rice paper, and wood.
After we create your wall scroll, it takes at least two weeks for air mail delivery from Beijing to you.
Allow a few weeks for delivery. Rush service speeds it up by a week or two for $10!
When you select your calligraphy, you'll be taken to another page where you can choose various custom options.
Check out my lists of Japanese Kanji Calligraphy Wall Scrolls and Old Korean Hanja Calligraphy Wall Scrolls.
Some people may refer to this entry as Courage Korean Kanji, Courage Korean Characters, Courage Korean in Mandarin Chinese, Courage Korean Characters, Courage Korean in Chinese Writing, Courage Korean in Japanese Writing, Courage Korean in Asian Writing, Courage Korean Ideograms, Chinese Courage Korean symbols, Courage Korean Hieroglyphics, Courage Korean Glyphs, Courage Korean in Chinese Letters, Courage Korean Hanzi, Courage Korean in Japanese Kanji, Courage Korean Pictograms, Courage Korean in the Chinese Written-Language, or Courage Korean in the Japanese Written-Language.
36 people have searched for Courage Korean in Chinese or Japanese in the past year.
Courage Korean was last searched for by someone else on Sep 22nd, 2021