Confucian in Chinese / Japanese...
Buy a Confucian calligraphy wall scroll here!
Personalize your custom "Confucian" project by clicking the button next to your favorite "Confucian" title below...
---
---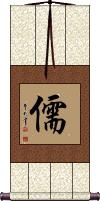 儒 is a unique single character that means scholar or Confucian and leaves a favorable impression when read in Chinese.

Specifically, in Japanese Kanji, this means Confucianism, Confucianist or Chinese scholar.

In old Korean Hanja, this means scholar, Confucian scholar, Confucianist, or learned (one who has learned and knows much).

Basically, it's the same in all three languages.

孝道 most clearly expresses the Confucian philosophy of filial piety.

Confucius taught that all should be respectful and obedient to their parents. Included in this idea is honoring your ancestors.

The second character is "dao/tao" or "the way" as in Taoism. You can say this title is "The Tao of Filial Piety" or "The Way of Filial Piety."
---
See Also: Confucius
The Five Tenets of Confucius
The Five Cardinal Rules / Virtues of Confucius

仁義禮智信 are the core of Confucius's philosophy.

Simply stated:
仁 = Benevolence / Charity
義 = Justice / Rectitude
禮 = Courtesy / Politeness / Tact
智 = Wisdom / Knowledge
信 = Fidelity / Trust / Sincerity

Many of these concepts can be found in various religious teachings. It should be clearly understood that Confucianism is not a religion but should instead be considered a moral code for a proper and civilized society.

This title is also labeled "5 Confucian virtues."
---

If you order this from the Japanese calligrapher, expect the middle Kanji to be written in a more simple form (as seen to the right). This can also be romanized as "jin gi rei satoshi shin" in Japanese. Not all Japanese will recognize this as Confucian tenets but they will know all the meanings of the characters.
---
See Also: Confucius Teachings | Ethics

This proverb means "Brave people [are] without fear," or "The brave are without fear."

勇者不懼 is a proverb credited to Confucius. It's one of three phrases in a set of things he said.

This phrase is originally Chinese but has penetrated Japanese culture as well (many Confucian phrases have) back when Japan borrowed Chinese characters into their language.
---
This phrase has also been converted into modern Japanese grammar when written as 勇者は懼れず. If you want this version just click on those characters.
---
See Also: No Fear
Courage to do what is right

見義勇為 means the courage to do what is right in Chinese.

This could also be translated as "Never hesitate to do what is right."

This comes from Confucian thought:
Your courage should head in an honorable direction. For example, you should take action when the goal is to attain a just result as, without honorable intent, a person's gutsy fervor can easily lead them astray.

One who flaunts courage but disregards justice is bound to do wrong; someone who possesses courage and morality is destined to become a hero.
---
Some text above paraphrased from The World of Chinese - The Character of 勇
---
See Also: Work Unselfishly for the Common Good | Justice | Bravery
孟子 is the name Mencius in Chinese.

Mencius had the name "Mèng Kē" (孟軻) at birth. This later changed to Mèng Zǐ (孟子). He lived between 372 and 289 BCE.

Mencius was a Chinese Confucian philosopher who has often been referred to as the "Second Sage" following Confucius himself.

For disambiguation, one of the classic books of Confucianism is also titled 孟子.

Romanization of Mencius from Chinese includes Meng Tsu, Mengzi, and his original name Mengke or Meng Ko. In Japanese, he is Mōshi or Moushi.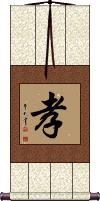 孝 represents filial piety.

Some will define this in more common English as "respect for your parents and ancestors."

孝 is a subject deeply emphasized by the ancient philosophy and teachings of Confucius.

Some have included this in the list for the Bushido, although generally not considered part of the 7 core virtues of the warrior.

Note: 孝 is not the best of meanings when seen as a single character. Some will read the single-character form to mean "missing my dead ancestors." However, when written as part of Confucian tenets, or in the two-character word that means filial piety, the meaning is better or read differently (context is important for this character).

We suggest one of our other two-character filial piety entries instead of this one.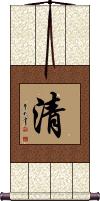 清 is a word that means clarity or clear in Chinese, Japanese Kanji, and old Korean Hanja.

Looking at the parts of this character, you have three splashes of water on the left, "life" on the top right, and the moon on the lower right.

Because of something Confucius said about 2500 years ago, you can imagine that this character means "live life with clarity like bright moonlight piercing pure water." The Confucian idea is something like "Keep clear what is pure in yourself, and let your pure nature show through." Kind of like saying, "Don't pollute your mind or body, so that they remain clear."

This might be stretching the definition of this single Chinese character but the elements are there, and "clarity" is a powerful idea.
---
Korean note: Korean pronunciation is given above but this character is written with a slight difference in the "moon radical" in Korean. However, anyone who can read Korean Hanja, will understand this character with no problem (this is considered an alternate form in Korean). If you want the more standard Korean Hanja form (which is an alternate form in Chinese), just let me know.

Japanese note: When reading in Japanese, this Kanji has additional meanings of pure, purify, or cleanse (sometimes to remove demons or "exorcise"). Used more in compound words in Japanese than as a stand-alone Kanji.
Forgive and Forget
Confucian Proverb

不念舊惡 is a Chinese proverb that can be translated as "Do not recall old grievances," or more simply as "Forgive and forget."

The character breakdown:
不 (bù) not; no; don't.
念 (niàn) read aloud.
舊 (jiù) old; former.
惡 (è) wicked deeds; grievances; sins.

This proverb comes from the Analects of Confucius.
This in-stock artwork might be what you are looking for, and ships right away...
Gallery Price: $200.00
Your Price: $79.88
The following table may be helpful for those studying Chinese or Japanese...
Title
Characters
Romaji

(Romanized Japanese)

Various forms of Romanized Chinese
Scholar
Confucian
儒
ju
rú / ru2 / ru
ju
The Dao of Filial Piety
孝道
kou dou / koudou / ko do
xiào dào / xiao4 dao4 / xiao dao / xiaodao
hsiao tao / hsiaotao
The Five Tenets of Confucius
仁義禮智信

---

仁义礼智信
jin gi rei tomo nobu

---

jingireitomonobu
rén yì lǐ zhì xìn

---

ren2 yi4 li3 zhi4 xin4

---

ren yi li zhi xin

---

renyilizhixin
jen i li chih hsin

---

jenilichihhsin
The Brave Have No Fears
勇者不懼

---

勇者不惧
yuu sha fu ku

---

yuushafuku

---

yu sha fu ku
yǒng zhě bú jù

---

yong3 zhe3 bu2 ju4

---

yong zhe bu ju

---

yongzhebuju
yung che pu chü

---

yungchepuchü
Courage to do what is right
見義勇為

---

见义勇为
jiàn yì yǒng wéi

---

jian4 yi4 yong3 wei2

---

jian yi yong wei

---

jianyiyongwei
chien i yung wei

---

chieniyungwei
Mencius
孟子
mou shi / moushi / mo shi
mèng zi / meng4 zi5 / meng zi / mengzi
meng tzu / mengtzu
Filial Piety
孝
kou / ko
xiào / xiao4 / xiao
hsiao
Clarity
清
sei
qīng / qing1 / qing
ch`ing / ching
Forgive and Forget
不念舊惡

---

不念旧恶
bú niàn jiù è

---

bu2 nian4 jiu4 e4

---

bu nian jiu e

---

bunianjiue
pu nien chiu o

---

punienchiuo
In some entries above you will see that characters have different versions above and below a line.
In these cases, the characters above the line are Traditional Chinese, while the ones below are Simplified Chinese.
Many custom options...




And formats...



Successful Chinese Character and Japanese Kanji calligraphy searches within the last few hours...
All of our calligraphy wall scrolls are handmade.
When the calligrapher finishes creating your artwork, it is taken to my art mounting workshop in Beijing where a wall scroll is made by hand from a combination of silk, rice paper, and wood.
After we create your wall scroll, it takes at least two weeks for air mail delivery from Beijing to you.
Allow a few weeks for delivery. Rush service speeds it up by a week or two for $10!
When you select your calligraphy, you'll be taken to another page where you can choose various custom options.
Check out my lists of Japanese Kanji Calligraphy Wall Scrolls and Old Korean Hanja Calligraphy Wall Scrolls.
Some people may refer to this entry as Confucian Kanji, Confucian Characters, Confucian in Mandarin Chinese, Confucian Characters, Confucian in Chinese Writing, Confucian in Japanese Writing, Confucian in Asian Writing, Confucian Ideograms, Chinese Confucian symbols, Confucian Hieroglyphics, Confucian Glyphs, Confucian in Chinese Letters, Confucian Hanzi, Confucian in Japanese Kanji, Confucian Pictograms, Confucian in the Chinese Written-Language, or Confucian in the Japanese Written-Language.
23 people have searched for Confucian in Chinese or Japanese in the past year.
Confucian was last searched for by someone else on Nov 26th, 2022